Did you know...?
… That O'Connell's has space available for parties. Pikkujoulut f.e.

Quiz 6th September 2006
To see the answer to any of the questions, simply select the text between the brackets that follow the question.
1.
Minkä värinen on Venäjän lipun alin raita? ( Punainen )
What is the bottom colour in the Russian flag? ( Red )
2.
Mikä on Kuuban virallinen kieli? ( Espanja )
What is the official language of Cuba? ( Spain )
3.
Kuinka monta Formula1-kisaa on jäljellä tällä kaudella?
How many F1-races are left in this season? ( 4 )
4.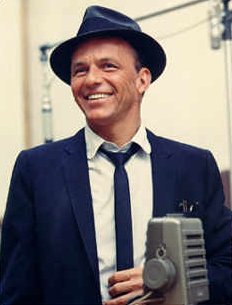 Kuka laulaja on kuvassa?
Which singer is in the picture? ( Frank Sinatra )
5.
Kuka kirjoitti vuoden 1976 romaanin "Veren vangit"?
Who wrote the 1976 novel "Interview with the Vampire"? ( Anne Rice )
6.
Mitä gamofobiasta kärsivä ihminen pelkää? ( Avioliittoa )
What is a person suffering from gamophobia afraid of? ( Marriage )
7.
Minkä maalainen on autonvalmistaja FIAT?
What nationality is the car manufacturer company FIAT? ( Italian )
8.
Alkuaineiden jaksollisessa järjestelmässä mikä on hapen järjestysnumero?
In the periodic table what is the sequence number of Oxygen? ( 8 )
9.
Minä vuonna euro Disney avattiin?
What year was the euro Disney opened? ( 1992 )
10.
Ketä vastaan Andre Agassi pelasi viimeisen ottelunsa?
Which tennis player did Andre Agassi play against in his last match? ( Benjamin Becker )
11.
Mistä maasta tulee Gouda-juusto? ( Alankomaat )
Which country does the Gouda cheese come from? ( Netherlands )
12.
Mistä elokuvasta Jeremy Irons on voittanut oscarin vuonna 1990?
From which movie did Jeremy Irons win an oscar in 1990? ( Reversal of Fortune – Onnen Kulissit )
13.
Kuka kirjailija on kirjoittanut kirjat "Tohtori Jekyll ja Hyde" ja "Aarresaari"?
Which author wrote the novels "Dr. Jekyll and Hyde" and Treasure Island"? ( Robert Louis Stevenson )
14.
Kuinka monta toimivaa avaruussukkulaa on NASA:lla?
How many operational Space shuttles does NASA have? ( 3, Atlantis, Discovery and Endeavour )
15.
Missä kahdessa maassa pidetään seuraava jalkapallon Euroopan mestaruuskilpailut?
In which two countries the next European Football Championship competition will be held? ( Austria / Switzerland )
16.


Minkä elokuvan juliste on kuvassa?
Which movie's poster is in the picture? ( American Beauty )
17.
Kuka artisti julkaisee albumin nimeltä "1974" tässä kuussa?
Which artist will be releasing an album in this month called "1974"? ( Robbie Williams )
18.
Judossa, mikä väri tulee oranssin jälkeen? ( Vihreä )
In judo, what colour belt follows orange? ( Green )
19.
Minkä Euroopan maan pääministeri on is José Sócrates? ( Portugali )
Which European country's prime minister is José Sócrates? ( Portugal )
20.
Mitkä olivat kahden varastetun Munchin taulujen nimet, jotka löydettiin viime torstaina?
What were the names of the two Munch paintings that were found last thursday? ( Scream, Madonna )
All questions researched by the fountain of knowledge - Jukka Luukkainen
Precious Memories
Real Ale Situation
Big Screen Action
---